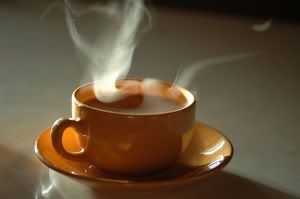 This morning when I went to take Mom to get her hair done, it was 55 and now it's 60 at 2:30pm.

A nice cool day
–
nothing better than stitching and sipping a hot cuppa!

I love, love it.
Just stopping in to say things are about the same around here - still going to Mom & Dad's every day after work to see how they are and what they need.

Going on Tuesday to take DS to get his wisdom teeth removed, so things are just clicking along.
Doing a little bit of stitching
–
may have longer today for a nice case of Stitch Ass
–
as Siobhan calls it!
Hers will have far better results than mine! After the current fall piece, it may become Christmas for a few days
…
Speaking of Christmas, my Just Cross Stitch 2011 Ornaments' issue came this week.

There are some cuties, but I know when I see yours all stitched up and finished, I'll want to do them all!
I'm loving so many of the fall/Halloween pieces that are coming out now, that didn't come out in Baltimore.

Oh, and how about that Mary Gibson I saw over at Terri's place
–
from the Haslemere Museum.

Yes, she's already in my stash!
I've now seen her all over
…
thanks for sharing the love, Terri!
I'm going to visit around your sites a bit, then on to get the stitching day going!

Thanks for dropping in, saying a word or two, and being so kind.

Love y'all bunches!
Peace
ë
Love
ë
Joy
and Happy Stitching
Charlene
♥
SC